Well it's April 17th, which was my original due date, according to my calculator. The hospital had me at the 18th but I think my own experience from conception to birth should trump their wheel, and this was the date I had in my mind as Grant's 'upper threshold' birthday, since I knew even if everything went perfectly my team would never let me go overdue. Not with my history, anyway.
It's raining today, the temperature and weather almost identical to the day we buried him. Thankfully, even in the midst of the coronavirus pandemic craziness the cemetery is open, so I could visit properly.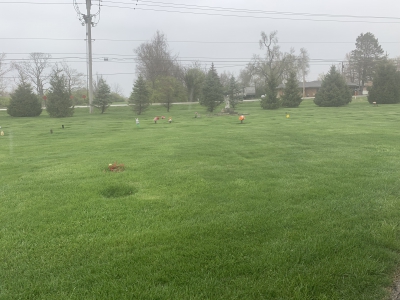 Grant's gravesite
The baby garden section is quiet and pretty, though profoundly sad. Something about this section just seems so unfair. The cemetery is filled with memorials to hundreds of people, but something about the babies being gone seems harder to process. Maybe just because it's me, and he is mine. But I find myself crying at even the thought of this little triangle patch of grass, bushes, and stones.
We haven't had the time or money to get a headstone yet, but the little yellow flag marking where he was laid is still here. The grass patch was replaced over the top of the dirt, but you can still see the outline where his little box was placed and filled in. That feels a little better, in a way? That it's not just blank like nothing happened, not just dirt like only death is there. Marked, but still living and fresh above. I don't know why that matters but somehow it does.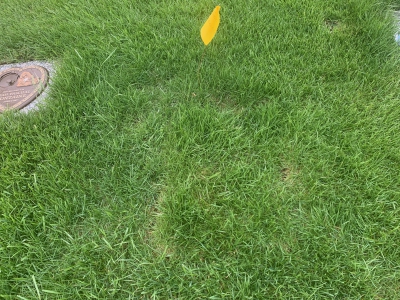 Grant's grave
I haven't cried much where anyone can see or hear, only at night or when friends say something that stabs at the raw places in my heart, however well meaning. In so many ways I'm fine. But I won't lie to myself here - as much as time moves forward and the demands of the day wait for no one, I cannot say I am unchanged by the loss and pain and emptiness in my arms where my baby should be. Not today. It doesn't help that another sweet friend who was due around the same time just safely had her baby yesterday, or that the doctors won't even let me try again until next year. It just reinforces the empty, aching loneliness that seems part and parcel of being a mother without her child.
I'm going to smile. But I'm not all right. Not even close.
Still, God is good, even in this. Even when we don't understand. Even when my arms are empty and my heart is broken. I don't feel it right this minute. Right now I don't feel anything but agony and sadness. But the rain today won't last forever and neither will the storm inside my mind. Just as it has in the past few months, the loss will slip further inside and the ache will recede from my mind a bit. The schedules will fill back up, living children will need food and naps and worksheets graded, and I'll continue on as this person carrying such a jagged mark on my soul that nobody sees but me and my precious Jesus.
I can't really think of scripture right now, except the refrain I tell myself nearly every day. The Lord gives, the Lord takes. Blessed be the name of the Lord. That's enough for me, even if I can't bring myself to talk the proper Christian platitude game at the moment, to anyone who asks. Deep inside all the painful places this has exposed, I know with certainty that He is here with me, even though my baby is not. That is all I have. No coping, no nice words, no bible studies and sermons. Just this piece of myself that is left, when everything else is stripped away, that knows His promises are true even if everything else perishes.
Right now I'm sitting in my car weeping. Today is a day for mourning again, even though it isn't Grant's birthday or death day. This is still a time for grief, where I'm making space away from life and the kids and Peter to just be with what's left of my baby. I feel like there will probably be many days like this to come, where I smile and perform and act the way everyone expects while quietly losing it in the safe places like this cemetery or my bedroom where I don't have to hide. So if you're thinking about it, pray for my peace. Or healing. I don't event know. But April 17th, 2020, has been a very hard day. My God is with me, and it feels like he is the only one right now.